The Healing Touch Professional Association (HTPA) is a membership association established with the support of the Healing Touch Program (HTP), to provide the HT Community - HT students, practitioners, instructors and friends of Healing Touch, a vehicle to actively participate in the future of Healing Touch.
Our Vision
Healing Touch Practitioners are fully recognized as vital professionals in all aspects of health care.
Our Purpose
HTPA unites and gives voice to our Members while providing support for high level Healership and successful Healing Practice.
With cutting-edge Professional and Business Development Tools, HTPA offers all Healing Touch Students and Practitioners, resources to be a qualified health care team member as Healing Touch takes its rightful place as a valid, sought after practice in every health care setting.
HTPA promotes adherence to the Healing Touch Program Standards of Practice and Code of Ethics.
HTPA provides avenues for community building through Community Connections, offering opportunities to actively participate in Service Outreach, local Chapters and Networking.
HTPA is a conduit for information regarding the new profession of Energy Practice, keeping our membership informed about new research, changes in health care delivery and legislative issues that affect their practice.
---
NOW AVAILABLE
2014 HTPA MEMBERSHIP MEETING RECORDING & SLIDES
On June 26, 2014 we conducted our Annual HTPA Membership Meeting by phone and webcast. For those unable to join us, we have recorded the audio but also have informative slides that go along with the presentation. Reviewing this meeting will give you a snapshot of what HTPA has accomplished in the past year and what we are focusing on this coming year and beyond. We have included some of the results of our May Member Survey also. This past year we created an e-Manual to give a "How to" guide for getting Healing Touch and other energy modalities into Stand Downs or other events. The e-manual is Free to download.
Click here to listen to the 2014 HTPA Annual Membership Meeting.
---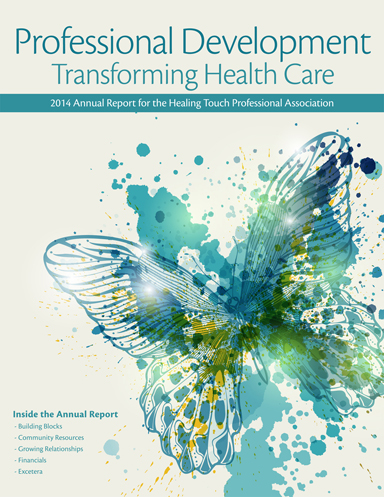 With pleasure we bring you the 2014 HTPA Annual Report. Our focus this year is on Professional Development - Transforming Health Care. We have built our 2014 Theme around the metaphor of the Butterfly's journey to Flight as it aligns with the birth and growth of HTPA. The difference of course is that HTPA has a long life ahead………. The HTPA Annual Reports are available (current and previous) upon request from the HTP Office (210 497-5529). They make beautiful educational pieces to have on your table when doing any Community Outreach or even to have in your office where you see clients. They are an impressive way to image your professional alliances. We would love to hear your suggestions, comments, ideas. YOUR voice is important to us – we DO listen. E-mail your thoughts to HTPA: info@HTProfessionalAssociation.com
The HTPA Annual Report can be viewed as a Booklet or by a Standard PDF which also allows you to print your choice of pages.
---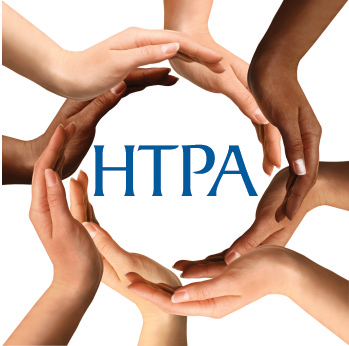 What is the Mission of HTPA's Community Connections?
The mission of the Healing Touch Professional Association's Community Connections is to manifest heart-centered service through diverse volunteer opportunities.
What is HTPA's new Community Connections?
Community Connections is a collection of volunteer opportunities offering active participation to all in the general HT Community and specifically to HTPA members. It is the avenue through which HTPA members can get involved in Special Interest Projects like HT Service to the Military and Disaster Response or even general volunteer opportunities.
What is the Purpose of the Community Connections?
As healers, we have a natural ingrained longing and desire to be of service to reduce discomfort and enhance the quality of life of our fellow human beings locally and globally. Many in our HT Community and HTPA membership would like to give back through volunteer service. As a result of conducting several surveys within our HTPA membership and HT Community at large, it has come to our attention that there is a significant number interested in volunteering their expertise in several different ways. Through the structure of HTPA's Community Connections we will formulate and offer a variety of diverse volunteer service opportunities.
What is the Vision of Community Connections?
HTPA will offer several special interest projects/committees for members to choose from. These projects are all ones that HTPA and HT Community members have requested. Committees (each having a lead Chair or co-Chairs) will work with HTPA's Executive Director to assist in reviewing volunteer applications and assignments, overseeing the planning and development of a project, managing the specific project's volunteers' needs and activities, tracking the # of volunteer hours for that project and handling communications related to that specific project. A bi-weekly report will be generated by each active committee and submitted to HTPA's Executive Director to be shared monthly with HTP's Management Team.
How to Get Involved in Community Connections?
Click here to fill out your application and submit to become part of the Community Connections' Volunteer Bank. On the Application you will be able to indicate your skills and Special Project Interest(s).
WE LOOK FORWARD TO HAVING YOU JOIN US!
---
10+ EXCELLENT REASONS to JOIN HTPA THE PROFESSIONAL ASSOCIATION for HEALING TOUCH
Have you been wondering how you can solve professional practice challenges that are arising out of your desire to change from the job you dislike to the Healing Touch "work" you love? Do YOU feel like you are a "lone ranger," bringing new health and healing concepts to your community? Are you in need of a professional boost – an alignment with others who believe what you believe? Is starting a small business practice a vision you would like to manifest? Would you (as an instructor or coordinator) like to increase the number and/or size of your Healing Touch classes? Are you practicing without the protection of Professional and General Liability Insurance?
Look here to see how joining HTPA could be the answer to your needs and desires...


Click here to print a HTPA Membership Application